---
Restaurant Checklist
The Restaurant Checklist covers key items that you may consider when starting your business. Getting a restaurant off the ground can be complex and there are numerous government agencies that you may need to interact with to ensure the health, safety, and well-being of yourself, your team, and your customers. Get a head start on the planning process by knowing upfront what to expect so you don't run into surprises that may delay your grand opening.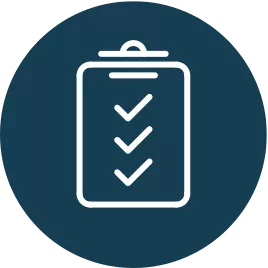 ---
Find a Location

After you've developed your business plan, you'll want to start looking for great locations for your new restaurant. Make sure the property you're interested in has the right zoning for a restaurant by looking on ZIMAS. Also look to see if there are any overlay zones or other special planning zones – these may suggest additional restrictions above and beyond the zoning requirements.

Don't know where to begin looking for a potential location? Try LocateLA which can help you find the best commercial buildings for rent and offers robust economic and demographic data to help you make an informed decision.

If the location you are considering was a restaurant before, it will be much faster to get up and running, assuming the previous owner was legally operating with the right permits. You can check by reviewing the building's Certificate of Occupancy. Otherwise, a Change of Use permit may be required from the Department of Building and Safety.

 

Once you know the zoning for the property you're interested in, check to see if a restaurant is allowed within the property's zoning category.

Identify the parking requirements for your business type and ask the landlord if the lease includes enough parking spaces to meet those requirements.

If your project does not meet the zoning requirements – for instance, if there is not enough parking or if the business is not allowed for the zoning category, you will need to apply for a land use permit (entitlement) from the Planning Department. The approval process for an entitlement requires a public hearing and may take several months. The cost of this process varies but may be several thousand dollars. Be sure to visit the City's Development Services Center for more information and assess whether this is still the right location for you.

Ask the landlord whether the unit meets Americans with Disabilities Act (ADA) requirements so you are aware of and can negotiate and/or budget for any needed renovations.

It's always a good idea to meet with your local Council Office, Neighborhood Council and community police station – getting their support and insights can be important for a smooth launch. You can find their contact information using the City's Neighborhood Info Tool.

Review your lease closely before signing it. Keep in mind that it may take several months to obtain the permits you need to start running your business and bring in paying customers.

Research the different elements of a commercial lease – they're very different from residential leases. You may also consider getting a lawyer to help you review and negotiate your lease.

Visit one of the City's Development Services Centers or call (213) 482-7077 to connect with city staff who can help you review the zoning and physical requirements of your property location.

Don't forget to sign up for the City's Restaurant and Hospitality Express Program (RHEP). The goal of RHEP is to make the permitting and inspection process more efficient, streamline the approval process, and provide assistance to restaurateurs, their design, and their construction teams. Once you complete the online application a Case Manager will be assigned to assist you. This service is offered free of charge by the City of Los Angeles.

 

Register your Business

Before you open your doors, you will need to register your business, your business name, and business entity. Check out the online start-up guide to get a tailored guide on how to formally register your business with the City, County, State, and Federal Government and get set up to pay business, sales,and payroll taxes.

Get Ready to Open

 

If the business that was at your location before was not a restaurant (for instance, if the prior business was a retail store or office), then you will need to file for a change of use permit. A change of use permit ensures that your property meets the city requirements for your business type. For instance, a retail store may require fewer parking spaces than a restaurant does, and you would need to demonstrate that you could provide the additional required parking spaces to obtain the change of use permit.

Building permits are required for electrical, plumbing and structural changes to a building, including additions, alterations, construction and demolition. To obtain a building permit, you will need to file building plans, have them approved and schedule an inspection to verify the work after it has been completed. Depending on the scale of the project, there are different "plan check" options for LADBS to review your building plans – ranging from an online application and automatic approval for simple projects to an extended review of architectural and structural drawings for large, complex projects.

When you apply for your building permits, the Department of Building and Safety will provide you with a "clearance summary worksheet" that lets you know what additional approvals are required. This may include the Los Angeles Fire Department, the County Department of Health and other Departments as applicable.

If you've received a land use or building permit from the City, make sure to follow up with the Development Services Center after any work is completed and schedule an inspection to make sure the work meets the required standards.

You may need to schedule a few inspections if there are various phases of work that you are completing. Typically, you need to have an inspection before you "conceal and cover" any work that has been done. For your convenience, inspections can be scheduled online on the LADBS website. 

The Department of Public Health is run by the County of Los Angeles. Their Plan Check program ensures that new and remodeled food facilities comply with California State laws and local ordinances relating to construction, building materials, equipment, equipment installation and ventilation systems. You may apply for a permit with the County Department of Public Health. Plan to submit three sets of floor plans and other required documentation. Once you've received approval, the Department may also schedule inspections during the construction or remodeling process to ensure that the work being performed conforms to quality and safety standard. This process is in addition to the City's Department of Building and Safety Plan Check.

After you've obtained your building permits, or if you aren't planning to make any changes to your space that would require a building permit, you may proceed directly to apply for a public health permit from the County Department of Public Health. Contact your nearest District Office to begin your application.

If you plan to serve alcohol in your establishment: Apply for an alcohol license from the State of California Department of Alcohol and Beverage Control (ABC). You will also need to obtain a Conditional Use Permit from the City of Los Angeles' Planning Department to ensure compliance with local regulations.

For the ABC License: You will need to submit an application at an ABC District Office if you are obtaining a new license, or transferring a license from the former owner. There are different requirements / fees based on your business' needs. An application can take several months to process and includes notifying local public officials, an investigation period and a public hearing if there are any concerns that are raised about your permit.

You should also research whether the property has an existing alcohol license that could be transferred to you. Each license is different and the terms will vary.

Once you've received your license, you will need to renew it annually.

For the Conditional Use Permit: Any business that sells alcohol needs a Conditional Use Permit (CUP) from the Department of City Planning. The Department of City Planning has a pre-application review available to help you prepare for the application – for a fee, a Planner will research your property to assess which permits and entitlements are necessary. Please keep in mind that the approval process for a CUP requires a public hearing and may take several months.

If you plan to have live entertainment, music, karaoke or pool tables: Obtain a Cafe Entertainment/Shows or Pool Room Permit from the Los Angeles Police Commission. Applications can be obtained from the Los Angeles Police Department or by calling (213) 996-1210. Applications are reviewed by the Police Permit Review Panel at regular public meetings. Please note that all business owners will need to complete a background check to obtain this permit.

If you plan to have valet parking: Apply for a valet permit with the LA Police Commission. The Police Commission offers classes to walk you through the application process. Typically, you will need to submit maps and parking plans for where cars will be parked, show proof of insurance and pay an annual fee. If you plan to have a valet stand on a sidewalk, you may also need to work with the Bureau of Engineering.

Your valet drivers will also need to obtain a permit from the LA Police Commission to ensure they have a valid driver's license and insurance and can pass a background check.

If you plan to have outdoor dining on a public sidewalk: the R-Permit (Revocable Permit) is issued by the Bureau of Engineering (Department of Public Works) for any encroachments in the public right of way, such as tables and chairs for sidewalk dining, fences, landscaping and sidewalk pavers. Applications for an R-Permit can be completed online or in person, and requires a sketch of the encroachment that includes dimensions, deed/title/lease agreement for the property and photos. The applicant will typically also need to provide a Waiver of Damages Agreement and proof of Liability Insurance before the R-Permit is issued. Because the issuance of an R-Permit requires staff to review and investigate the site, as well as notify the Council, Neighborhood Council and adjacent property owners, this process may take several months.

If your restaurant will generate fats, oils and grease during food preparation: These types of materials have an impact on the city's sewer system, and therefore require an inspection and industrial wastewater permit. You may apply for a permit through the city's Department of Public Works, Sanitation Division.

Bring on Staff

 

Before you start serving food, you'll need to obtain a Manager's Food Safety Certification for yourself and/or a designated employee.

All employees who handle food (preparation, storage or serving) must also take a food safety training course and pass an examination to obtain a Food Handler Card. New employees have 30 days to obtain the permit.

Review the Hiring Section for information on additional wage and employment guidelines.

Additional Resources

If you prefer a personal touch to getting your business of the ground, check out the Resources Section of the Business Portal. You can find organizations that might be helpful to you along the way, or visit one of the City's nine BusinessSource Centers for dedicated, free technical assistance.